S4H Friendly!
Grandma's Garden - Alpha

can be found here
Wonderful Vintage Page Kit, great to scrap all Family Memories, be it from the past or today.
Many possibilities and usable for varoius occasions.
Content:
10 Beautiful Textured Papers
6 Extra Papers (modified versions of the originals)
1 Branch (2 versions)
1 Button
1 Candle Stand
1 Charm - backside - (with and without chain)
1 Clockwork
1 Dried Flower
2 Fasteners
2 Flowers
4 Frames (one of them comes in two versions)
1 Furniture Fitting
2 Hinges
2 Old Rusty Keys
1 Lace
1 Lace Doily (2 versions)
1 Leaf
1 Needle
1 Old, Ripped Paper
1 Old Open Book
1 Overlay
1 Bundle Of Pressed Flowers
2 Screws
1 Tag
1 Watch
1 Complete Alpha with uppercase letters, numbers and special characters.
I have included the elements in a shadowed as well as a non shadowed version in separate
folders.
The elements are created at 300 dpi for high printable quality and saved in .png file format to preserve transparency!
Papers are 12x12 (3600x3600px) created at 300 dpi and saved in .jpg file format
S4H/S4O friendly!
Sign up for my newsletter
here
to get this beautiful Add-On!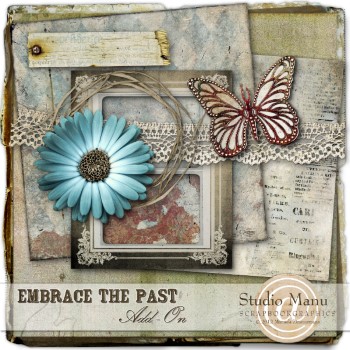 If you like this product you might also like these
All together from this collection is also available at a special discount here:
Embrace The Past - Bundle