Who doesn't love reading?
And who doesn't remember the days when you were a young child and
your grandma or grandpa had read stories to you from old
books?
The *Grandma's Reading Room* page kit is perfect to call back this
wonderful time. Of course it's also great to scrap photos you have from
today, when you read out books to your children or grandchildren
and as it has so many various elements that it isn't necessary to scrap only "Reading" photos,
it is also usable for somany other occasions.
Content:
10 Beautiful Textured Papers
8 Extra Papers (modified versions of the originals)
1 Book Pile
1 Books Standing
1 Candle
1 Chair
1 Curled Ribbon
1 Dry Rose
1 Fire Place
2 Flowers
4 Frames
1 Glasses
1 Grass
1 Ivy
1 Kerosene Lamp (comes with and without shining light)
1 Lace
1 Magnifying Glass
3 Overlays
1 Paper Leaf
2 Poppies
1 Shelv With Books
1 Twine
1 Watch Stamp
1 Complete Alphaset with upper- and lowercase letters, numbers and a few characters.
I have included the elements in a shadowed as well as a non shadowed version in separate
folders.
The elements are created at 300 dpi for high printable quality and saved in .png file format to preserve transparency!
Papers are 12x12 (3600x3600px) created at 300 dpi and saved in .jpg file format
S4H/S4O friendly!
Sign up for my newsletter
here
to get this beautiful Add-On!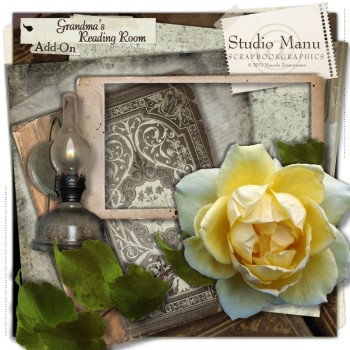 If you like this product you might also like these
All together from this collection is also available at a special discount here:
Grandma's Reading Room - Bundle