Music is an art form - same like scrapbooking.
With the Page Kit *Sound Of Music* it is possible to combine these two art forms.
Music always has been loved by people from all over the world and Music brings people together from all over the world - same like scrapbooking.
You know the best by yourself how many people you got to know through scrapbooking - from all over the world.
When you are sad and you listen to music it helps you to bring a bit more joy into your life and let you smile - same like scrapbooking.
And no doubt - music effects inspiring!
With the *Sound Of Music* Page Kit you are now able to capture the one form of art *Music* using the other form of art *Scrapbooking*.
You'll see how much fun you'll have playing with this kit. Please take a look at all the awesome sample layouts!
Content:
10 Beautiful Textured Papers
11 Extra Papers (modified versions of the originals)
1 Clarinette
1 Clef
1 Contrabass
1 Curled Ribbon
1 Fastener
1 Fern
4 Flowers
4 Frames
1 Foliage
1 Guitar
1 Harp
1 Ivy
1 Music Stand
1 Music Stand With Sheet Of Notes
2 Notes Overlays
3 Other Different Overlays
1 Piano
1 Record
1 Screw
1 String
1 Tag
1 Violin
1 Complete Alphaset with upper- and lowercase letters, numbers and a few characters.
I have included the elements in a shadowed as well as a non shadowed version in separate
folders.
The elements are created at 300 dpi for high printable quality and saved in .png file format to preserve transparency!
Papers are 12x12 (3600x3600px) created at 300 dpi and saved in .jpg file format
S4H/S4O friendly!
Sign up for my newsletter
here
to get this beautiful Add-On!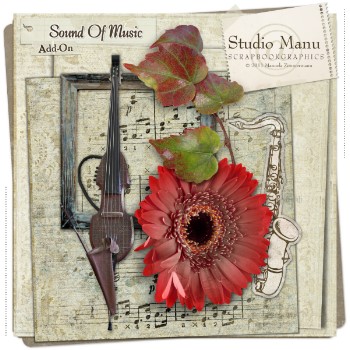 If you like this product you might also like these
All together from this collection is also available at a special discount here:
Sound Of Music - Bundle
Awesome Addition:
Sound Of Music - Mini Kit