I'm pretty sure that you also will have a corner where a little (or big) box with old Baby pictures inside is waiting for you to start scrapping and capturing those precious memories.
So the Vintage Baby Page Kit is perfect to make wonderful pages and complete albums.
If you take a lok at the sample pages you'll recognize that it is not just for the old Baby Photos you have.
It is so very versatile and neutral too because it's not pointed just for boys or just for girls, it's really great usable for both.
Content:
10 Beautiful Textured Papers +
10 extra papers (modified versions of the originals)
1 Baby Boy
1 Baby Car
1 Baby Card
1 Bead Overlay
1 Bottle
2 Branches
1 Brushed Overlay
1 Butterfly
1 Cup
1 Doily
1 Dress
1 Fern
1 Flourish (2 versions)
4 Flowers
4 Frames
1 High Chair
2 Labels As Tickets
1 Mat
1 Curled Ribbon
1 Pair Of Shoes (Shoes also separated included)
1 Splatter
1 Stitch
1 Teddy
1 Tricyle
1 complete Alpha with upper- and lowercase letters, numbers and special charcters
I have included the elements in a shadowed as well as a non shadowed version in separate
folders.
The elements are created at 300 dpi for high printable quality and saved in .png file format to preserve transparency!
Papers are 12x12 (3600x3600px) created at 300 dpi and saved in .jpg file format
S4H/S4O friendly!
Sign up for my newsletter
here
to get this beautiful Add-On!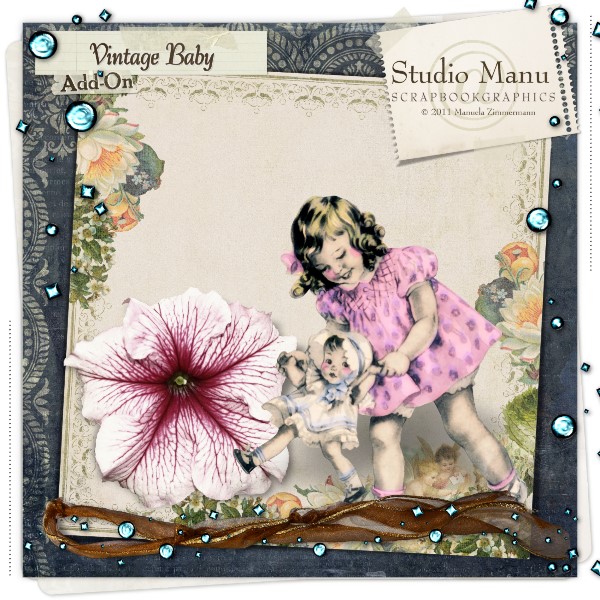 If you like this product you might also like these
All together from this collection is also available at a special discount here:
Vintage Baby - Bundle