Summer always was and still is my favourite season. I love and enjoy each day of summer.
I love the beach, the sea, the water, the warmth, relaxing in the sun .... just everything and I can't wait till summer is finally arrived.
Here is a wonderful Summer Page Kit for all you Summer Lovers to scrap all your Summer Memories and vacation pictures or just to shorten the time till Summer starts ;)
Beside many gorgeous unique elements are inluded 16 papers in total and a complete Alpha Set.
Content:
10 beautiful textured Papers
+ 6 extra papers (modified versions of the originals)
1 Swirl with Pearls
1 Bast Bow
1 Burlap
1 Fan
2 Flip Flop Shoes
2 Flowers
4 Frames
1 Shining Old Lantern
1 Leaf
1 Life Preserver
2 Sand Overlays
1 Seagull
4 Seashells
2 Starfishes
1 Stone
1 Strawhat
1 Sunshade (Straw)
1 Other Sunumbrella
1 Tag
1 Twine
2 Water Splashes
1 Complete Alpha with uppercase letters, numbers and special characters.
I have included the elements in a shadowed as well as a non shadowed version in separate
folders.
The elements are created at 300 dpi for high printable quality and saved in .png file format to preserve transparency!
Papers are 12x12 (3600x3600px) created at 300 dpi and saved in .jpg file format
S4H/S4O friendly!
>>>
Sign up for my newsletter
here
to get exclusive Freebies and exclusive
Coupons, be always notified early about sales, new stuff and what else is going on!
Studio Manu - Latest Newsletter Freebie: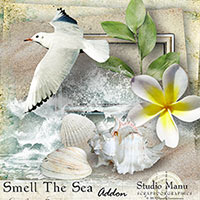 If you like this product you might also like these
All together from this collection is also available at a special discount here:
Vintage Summer - Bundle